You can now protect your bubble cover investment with the reflective storage cover. This innovative cover reflects the sun's heat, thanks to its technology, which with its light blue surface reflects the sun's heat and with its black reverse side prevents light from penetrating the bubble cover . This unique combination has proven reducing the temperature of a stored cover by more than 30ºC.
A bubble cover that is stored, rolled up and exposed to direct sunlight achieves temperatures above 77ºC. The graph shows how the reflective storage cover can reduce this temperature by more than 30°C, thus preventing irreversible damage to your cover.
When a bubble cover is not in use it must be protected, otherwise it can be permanently damaged by direct exposure to sunlight. This can be avoided by using a reflective storage cover.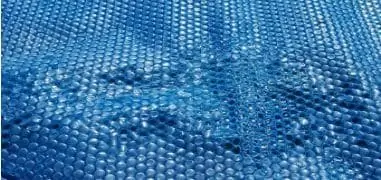 Damage to a cover exposed to direct sunlight.