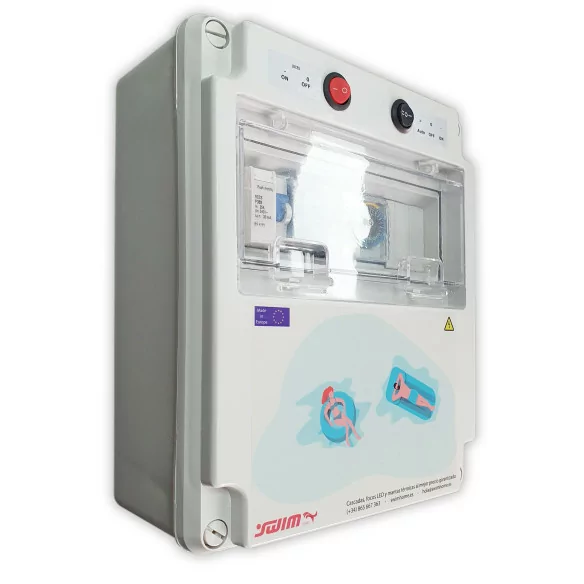 WiFi electric panel for swimming pool with transformer suitable for chlorinator *Required step
WiFi electric panel for swimming pool with 12V AC safety transformer for LED and halogen lights. Capacity for transformer up to 300W. The transformer, as well as the optional controller are delivered installed inside. Includes contactor for chlorinator and circuit breaker.
Includes motor guard, select the most suitable for your filtration pump.
Includes WiFi controller for the pump, which allows you to turn off, turn on, view consumption and program the filtration pump.
Optional LED remote control or WiFi control (Allows you to turn the lights on and off)
Exclusive at Swimhome.es
WiFi control
To use the WiFi control system it is necessary to create an account in the SmartLife application. Please note that the WiFi reception must be excellent in the area of the electrical panel.

Total Rating





Add Review

View Reviews
what is a Motor Guard used for?
This is a key element in the construction of a swimming pool electrical panel. The motor guard is a magneto-thermal switch that protects the motor of your swimming pool against overloads or short circuits and, therefore, guarantees its safe use. It also extends the life of the motor.
what is a chlorinator contactor for?
For the correct operation of the salt chlorination system, the chlorinator must work in conjunction with the filtration system. This prevents the injected product from accumulating in the piping and causing damage to the filtration system or excessive consumption of the product.
Usually, professionals connect the filtration system and the chlorinator system in the same socket, but this reduces the effectiveness of the motor guard and can affect the life of both the water pump and the chlorinator
That is why at Swimhome we offer a contactor for the chlorinator system that will allow you to have an independent and synchronised socket for your chlorinator or PH systems, extending the life of your elements.
Warranty

3 years

Dimensions (mm)

(L)265 x (W)300 x (D)130mm

Protection

IP55

Transformer

100W 12V AC
300W 12V AC

Contactor

For Chlorinator
At Swimhome we not only offer you the best service and the closest treatment, we also know that getting a good price is important to you. That's why we always guarantee you the best purchase price, and if you find a better one, we'll beat it.
To do this you only have to send us by WhatsApp or email the complete budget where we offer you a better price before making your purchase.
Remember that the product must be of the same brand and reference. Do you have a better price for a very similar product? Send us your quote and we will offer you our best proposal.
Reviews
(0)